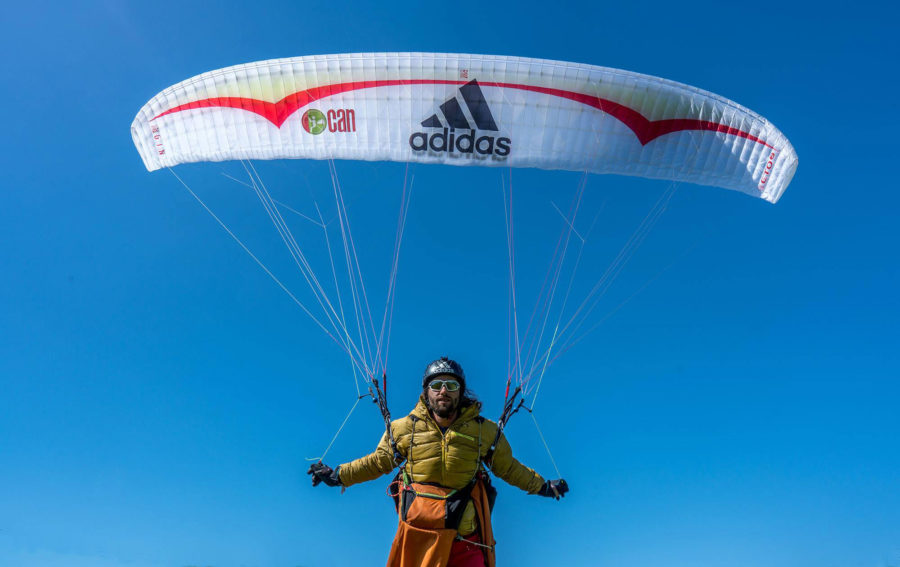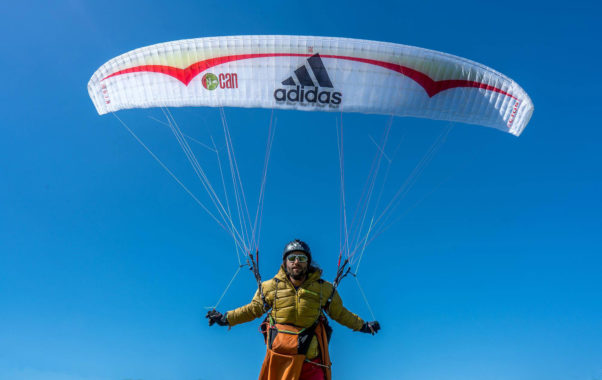 Antoine Girard has broken the 8,000m mark in high-altitude cross-country paragliding, soaring Broad Peak, the world's 12th highest mountain, in a seven hour flight on Saturday 23 July 2016.
According to US adventure pilot Brad Sander, who lives in Pakistan and supplied Antoine with oxygen, Antoine climbed through cloudbase at 6,500m and then soared and thermalled up the western slopes of Broad Peak to the summit.
"This is the flight of the century," Brad said, talking from Pakistan, "it's beyond anything anyone has done so far."
Antoine is currently travelling home to France and out of touch, but we spoke to Brad about what Antoine has been up to on his month-long vol-biv trip to the Karakoram mountains in Pakistan.
"This has been super-fun for me to watch," he explained. "Antoine approached me about renting oxygen. He rented two kits. His friend Nelson De Freyman was going to come, but he was in the French military so his visa got denied. That meant Antoine was alone."
According to Brad, Antoine hooked up with Tom de Dorlodot, Horacio Llorens and Hernan Pitocco who were also flying in the area this season.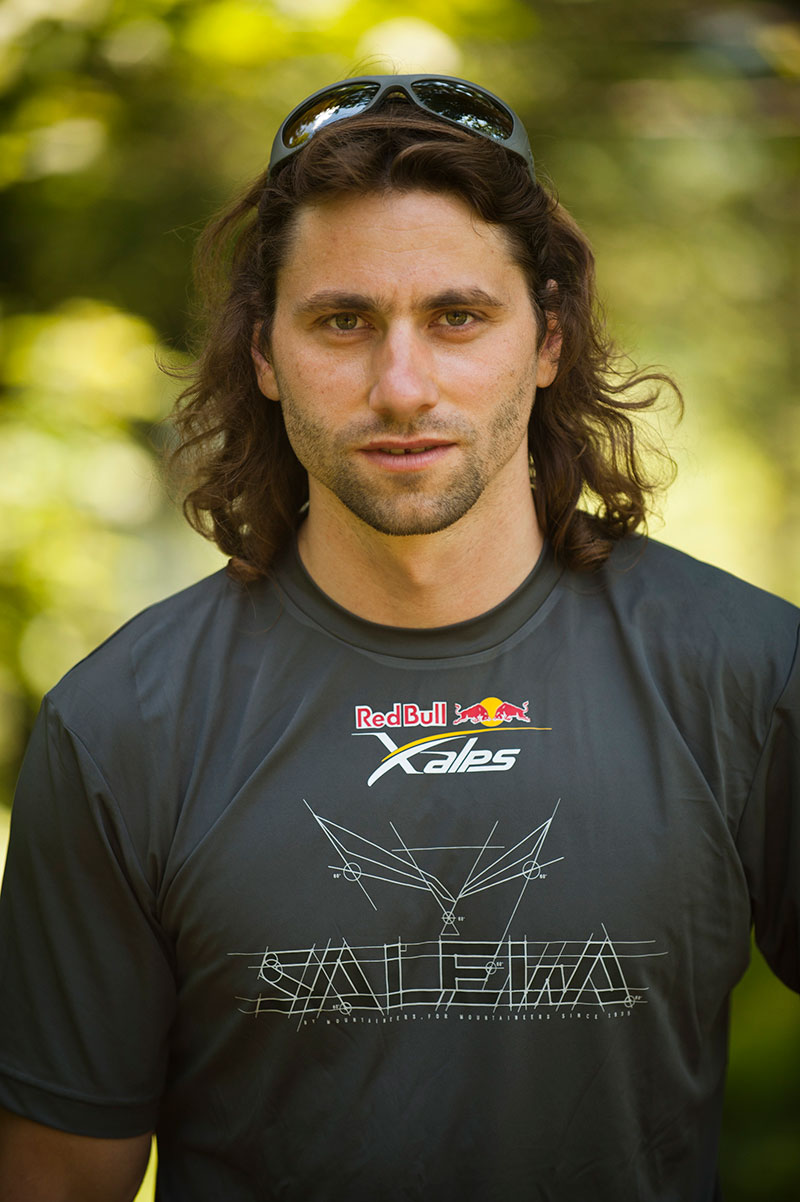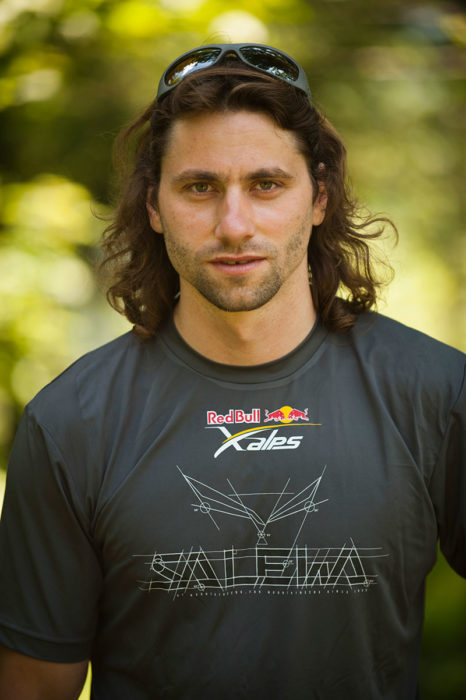 "He started with Tom de Dorlodot and the guys. He got in one flight. Those guys got a short flight because it was over-developing, but Antoine took the tiger-line from Hushe to Skardu. On his first flight in Pakistan he showed he was going to go for it in the conditions."
Antoine then spent three weeks flying vol-biv through the Karakoram, including flying around Nanga Parbat, the ninth highest mountain in the world, and crossing the Deosai Plateau, a 3,000km2, 4,000m high plateau.
"Basically he was flying full self-supported vol-biv style. Even in Hunza he didn't stay in a hotel. He was just in a tent. He resupplied in Hunza twice during his trip."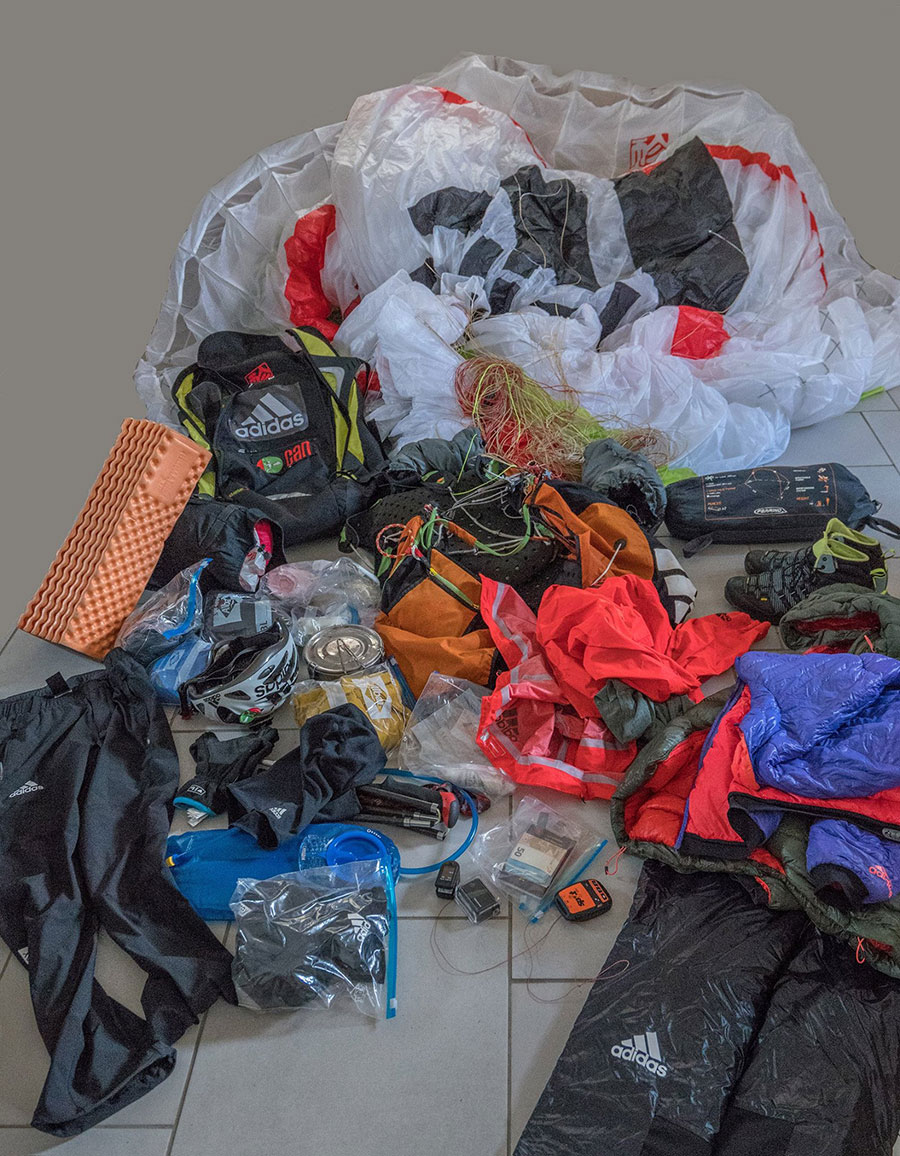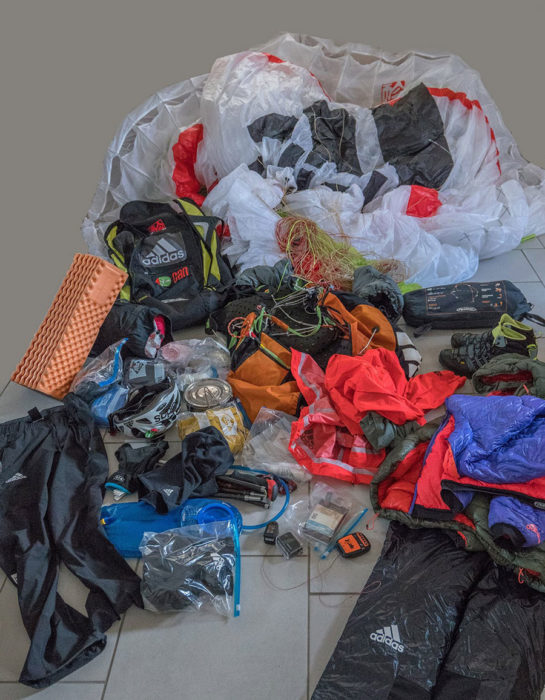 On 21 July Antoine flew from Hunza to the base of the Baltoro Glacier. "This is the magic line that John Silvester took in 2008. It's a deep line from Hunza, really committing. He top-landed there at 4,700m and camped there for two nights."
That put him in a perfect position for flying into the biggest mountain range on Earth.
"On 23 July, with a handful of people watching his Spot page, he flew up the Baltoro Glacier, over the top of Trango Tower, to Concordia."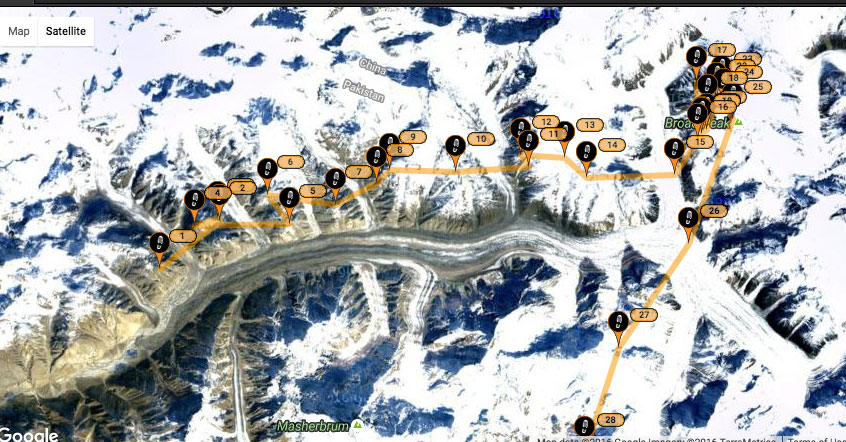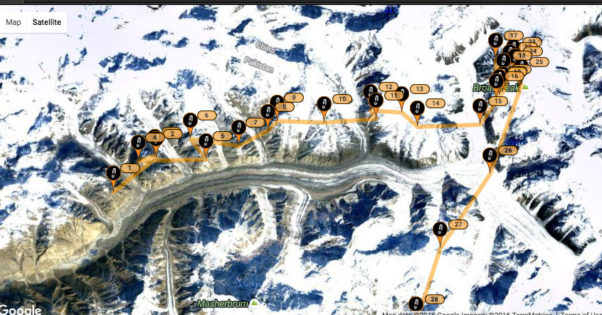 Concordia is the name given to the confluence of the Baltoro Glacier and the Godwin-Austen Glacier, in the heart of the Karakoram range of Pakistan. It is surrounded by 8,000m mountains, including K2, the world's second highest peak. Only a handful of people have ever flown in this region before.
"Now from Concordia he did something really special that nobody has done, and he crossed over to Broad Peak.
"I watched his Spot for the hour-and-a-half, two hours, he was on Broad Peak. Basically here's the deal. Cloudbase was 6,500m, so he wasn't above that.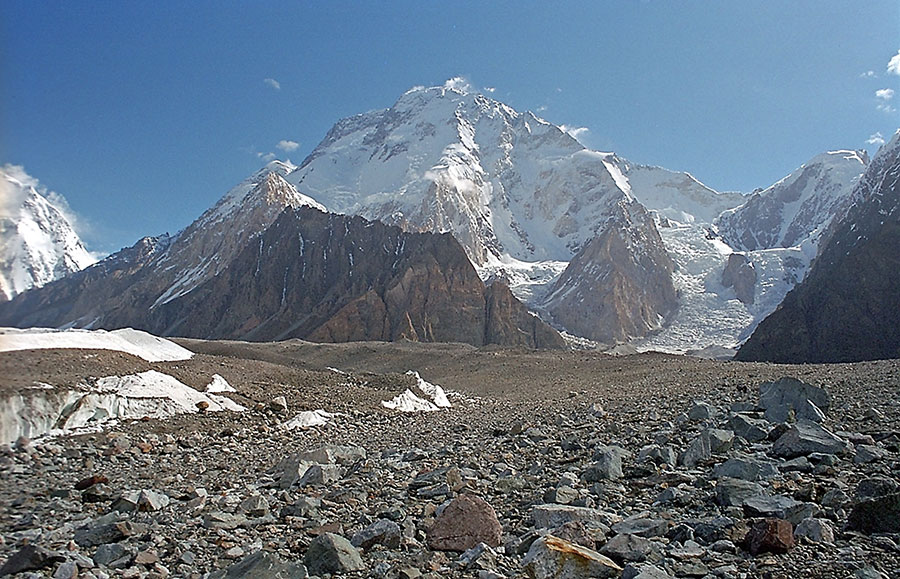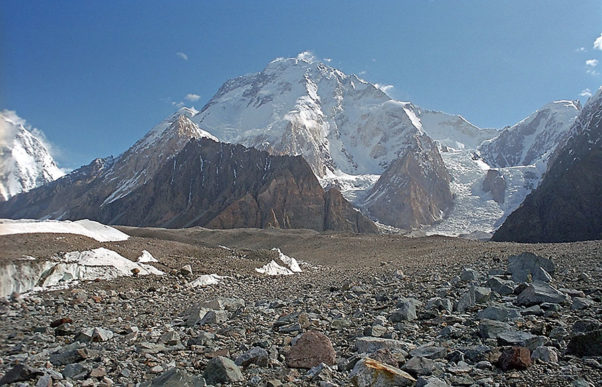 "But on Broad Peak he was able to climb above cloudbase at 6,500m and go up to the top of Broad Peak. He's got GoPro video of himself in super smooth lift above Broad Peak."
Antoine Girard had successfully flown to the summit of an 8,000m mountain – the first person ever to do so.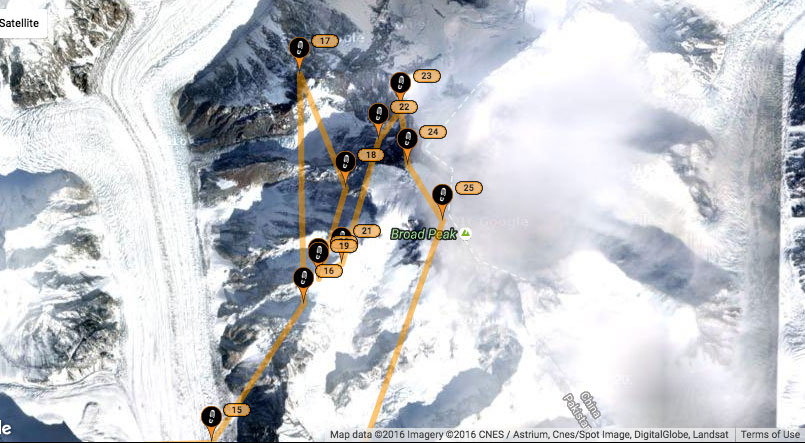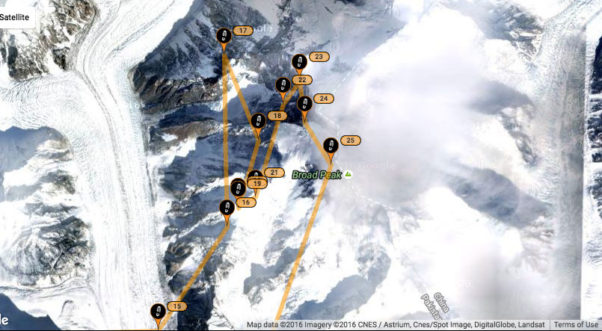 "Antoine sent me the tracklog last night just before he left for France. I've seen the tracklog. It shows 8,127m and a seven hour flight."
Brad added: "So of course all the climbers on Broad Peak saw him, a TV producer called and said, 'Hey, here's your guy, he's flying!'"
After soaring Broad Peak at 8,100m Antoine flew across the 5,000m Gondogoro Pass and top landed at 4,400m.
"I think that's a flight of 65km to Broad Peak then 50km to where he landed, something like that"
The next day he took off again and flew to Skardu, before catching a flight to Islamabad and then home to France.
Brad, who was a paragliding pioneer in the high mountains of Pakistan a few years ago and now advises pilots who come to fly in Pakistan, said: "It's mind-boggling what he just did. This is an idea John Silvester had, 'Hey, can we get above cloudbase by soaring these big mountains?' And he's proven that we can."
He added: "For me, 2009 was the year I flew the most here. I repeated the big [200km] line I did in 2008.
"There were a handful of pilots here. But I was watching the X-Alps thinking, why aren't those guys here?
"What's happened now with vol-biv and the X-Alps means these guys are strong. I was never this strong.
"This guy is mentally strong, having the discipline to fly day after day, make good decisions, be self supporting.
"This is the next level. This is not how paragliding was a few years ago. It is very, very inspiring."
According to Brad the flight was done without oxygen, although we will wait to confirm this with Antoine himself when he returns to France.
Tom de Dorlodot, who flew with Antoine at the start of his trip, said: "We have all been dreaming about that flight since we started flying in Pakistan! After five summers in those mountains I was starting to doubt it was even possible.
"Antoine has just set the bar much higher. He has really put his mark on the history of paragliding. The Baltoro Glacier is one of the most incredible places to fly on Earth. But flying above Broad Peak, what an achievement.
"Antoine had the right mindset when I met him in Hushe before he started his trip. He did it with style, alone, he was well prepared, very focused. He pushed through bad weather for two weeks, drawing superb lines with his tracker.
"I'm very happy for him and for all the flying community. It's very inspiring – congratulations Antoine!"
We echo those congratulations to Antoine on this truly historic flight.